World War Two military aviation always elicits an excited response from the hobbyist. Superforts. Mustangs. Hellcats. Liberators. Dakotas. All come to mind when classic war birds are mentioned.
And they were all great airframes. That served well. And help the Allies wing their way to victory.
But an oft overlooked airplane flew from '39 in RAF colors all the way to the Japanese capitulation.
An ungainly, slow, lumbering lightly armed amphibian. That helped sink the Bismarck, helped stop the Kido Butai, sank 40 U-Boats, and fished an untold number of water logged sailors and airmen out of the drink.
Click to Embiggen
Yeah, she looks good in the mid war scheme. The Consolidated PBY first flew in 1936. And was finally retired from active military service in 1982, flying for the Brazilian Air Force as a SAR bird.
And more awesomely, a few still serve today, fighting wild fires.
As my love of the 10mm and .357 SiG illustrate, I like odd ball things. No one would think of the PBY as being a glamours war planes. But she served ably and well in every theater of WWII.
Other than finding the Bismarck, one could make two cases of what was the Cat's finest hour.
The Aleutians Campaign and Guadalcanal. I highly recommend The Thousand Mile War by Brian Garfield concerning the Aleutians. A fascinating look at a theater that has been all but forgotten in the modern historiography of WWII.
And, during the gloomy fall of '42, intrepid VP pilots covered their Cats in black paint and set out at night to try and interdict the Tokyo Express.
What else is a Naval Aviator to do when the nearest Fleet Carrier is running towards Australia with a scared black shoe Admiral in charge?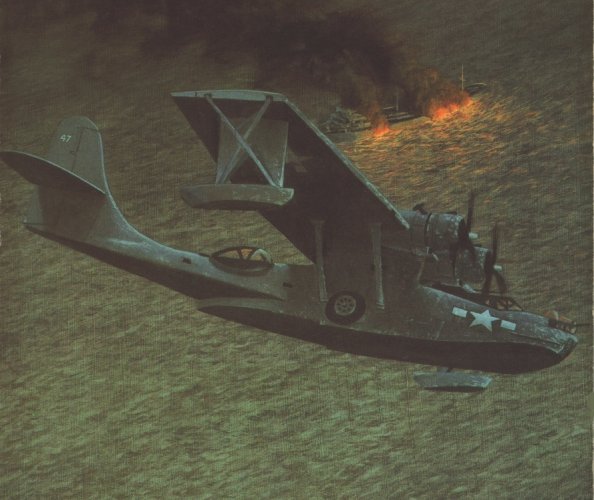 "Joe, did you think this would work this well?"
Solo PBYs would venture out at night. And try to sink any IJN shipping they came across. They were pretty successful. Successful enough to hold the line until the fast battleships and Admiral Lee could show up. More than a few never made it back to their tenders. Victims of marauding Zeros, AAA, and just plain bad luck.
And that is a special kind of bravery. To climb into a long range reconnaissance aircraft. Strap it with a bunch of ordnance. Exceed max fuel capacity. Trust those big Wasp Radials to get you in the air. And venture towards Harm's Way.
Black Cats and Dumbos by Mel Crocker is a great review of the fightin' floatplanes.
A few Cats are preserved in museums across the country. But I think the best memorial to these lumbering beasts are the handful that still fight raging wild fires.